Don't Wait to Innovate!
Teachers often begin the school year with team-building activities or a review of the rules and procedures. But what if we began with student-centered projects? The following is an exploration of six student-centered projects you can launch in your first month of school.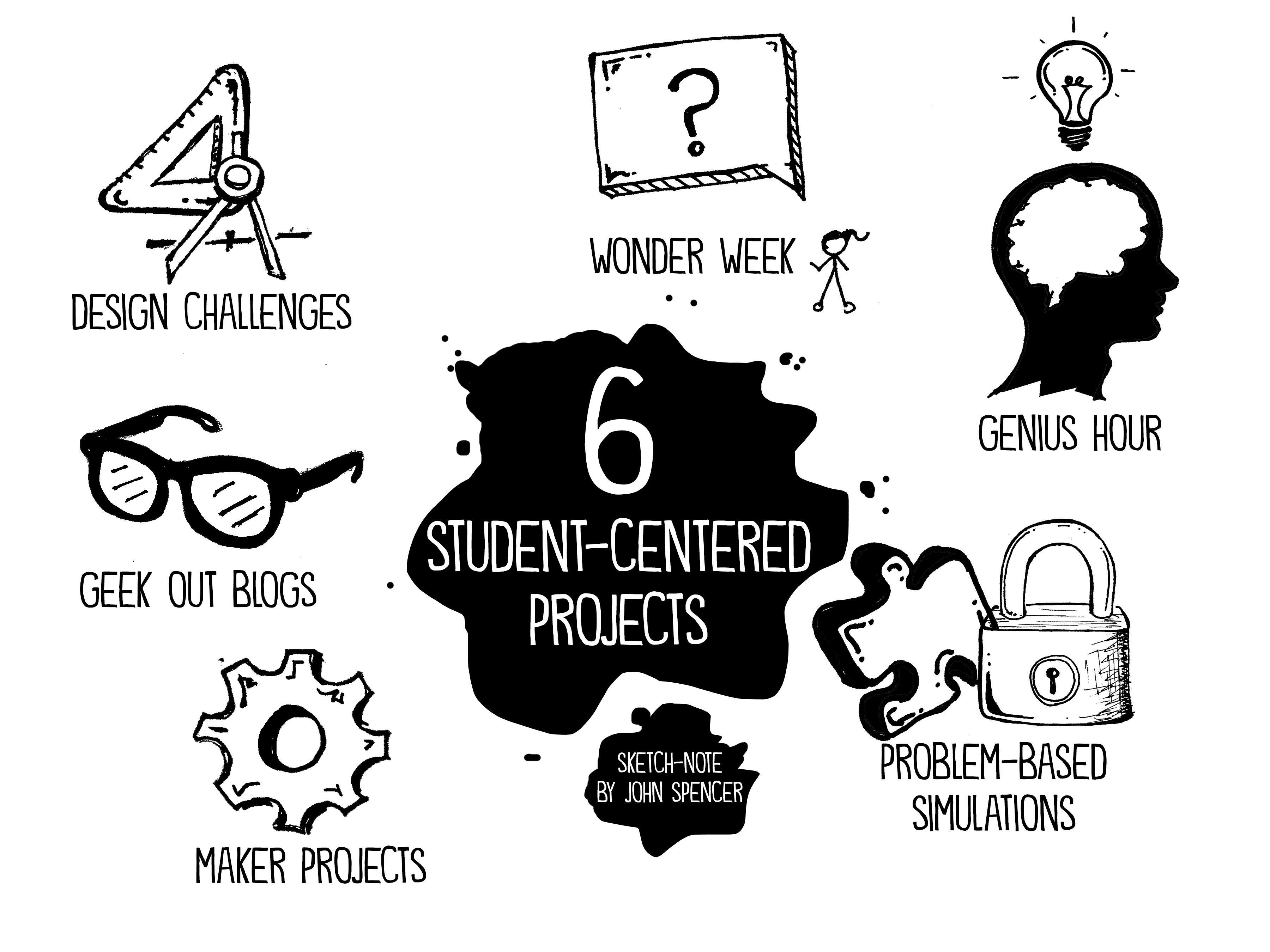 Starting the Year with Student-Centered Projects
So, imagine a classroom with 34 students. It's the first week of school and you have a mix of students who spent the summer owning their learning and doing amazing projects mixed with another group who spent their hours binge-watching Netflix and playing video games. They are strangers right now but at some point, they will be a community. But what do you actually want to accomplish at the beginning?
Chances are, you'd love to see the following:
Team-building and social cohesion
Review of former content to make up for the "summer slide"
Clarifying expectations and going over procedures
A general pre-assessment of where your students are at within the standards
Often, teachers begin the school year with icebreakers. For what it's worth, I'm not a fan of icebreakers. In my experience, extroverts have already broken the ice before they walked through the door and introverts are perfectly happy to let the ice melt slowly. I've never enjoyed the small-talk chatter of gathering names for People Bingo, the super awkward human knot, or the "tell me 3 facts about you" activities. But I get it. There is value in the pure joy and laughter in a great icebreaker.
Other teachers spend the first week going over expectations and having students complete pre-assessments. They might spend time in community-building but they know that time is short and they need to get on with the content.
But I've found that there's actually a way to build community, go over expectations, and pre-assess students while also promoting student ownership.

Starting with Student Ownership
If you ask teachers what they want in the long-term for students, you are likely to hear terms like "life-long learners," "critical thinkers," and "falling in love with learning." You might hear something about students being self-directed and independent.
So what if we began the school year with a focus on student ownership?
By starting with student-centered projects, you are making a bold statement that says, "I trust you to be self-directed and I value your agency as a learner." Rather than sharing 3 items about themselves or playing a game of People Bingo, students can actually share their expertise and passions through Genius Hour projects and Geek Out blogs.
So, what about procedures and expectations? The beauty of a student-centered project is that you can teach the procedures as you go. You might spend 10 minutes going over the procedure grid but then you can clarify expectations as students move from independent to partners to small group to whole class instruction.
The following are a few student-centered projects you can do with your students at the beginning of the year.
#1: Genius Hour (Let Students Choose the Topic)
Genius Hour begins with a simple premise. Give your students 20% of their class time to learn what they want. They choose the content while also mastering skills and hitting the academic standards. With Genius Hour, students own the entire journey. They choose the topics based upon their own geeky interests. It doesn't have to be a traditional academic area. They might like fashion or food or sports or Legos or Minecraft or deep sea creatures.
They can then match these topics with the standards. Notice that many of the ELA standards, for example, are essentially skill standards that can connect to just about any topic. Students ask the questions and engage in their own research to find the answers. Along the way, they design their own plan of instruction. They decide on the resources and activities. Each student sets goals and engages in self-assessment. They work at their own pace and set their own deadlines.
In the end, students figure out what they will make and how they will share their learning with the world. A word of caution: It's not a free-for-all. The best Genius Hour projects have systems and structures that empower students to reach their full potential. Even so, there will be mistakes. You'll have to experiment. But in the end, students are empowered to be self-directed learners, engaging in creativity and critical thinking. In other words, they own the learning.
#2: Problem-Based Simulation Activity (Let Students Choose the Strategy)
A problem-based simulation activity might involve doing a collaborative wilderness survival activity, where students have to figure out what supplies they will take in order to survive a plane crash. It might involve a space simulation, where they have to decide which items they need in order to start a lunar colony or how they might fix a broken item on a spacecraft. You might do something like a Breakout EDU project, where students have to solve problems collaboratively while working within a tight time constraint.
The idea here is that students work collaboratively to decide on their own strategies. They are forced to make decisions, communicate with peers, and learn from their mistakes. It's a great way to model productive failure and iterative thinking.
#3: Design Challenges (Let Students Own the Creative Process)
I want to see students engaged in creative thinking from day one. This is why A.J. Juliani and I created the LAUNCH Cycle (which we also explored in our book Launch: Using Design Thinking to Boost Creativity and Bring Out the Maker in Every Student)
Subscribe to YouTube Channel
With design thinking, students own the entire creative process from the initial place of awareness through the inquiry, which leads to the research and then into the ideation and eventually into the place where they are creating their prototypes. Note that there is a structure here. However, the structure is designed to facilitate rather than limit a student's creative voice.
Here's an example of a design challenge that connects to math:
#4: Maker Projects (Let the Students Make Their Own Creations)
Maker projects are similar to design challenges. However, they are shorter and based on the idea of rapid prototyping. Check out the following video to see the distinction:
A.J. Juliani has a great curation of maker projects that he included on his recent blog post:
Best Activities for Students K-2:
#5: Wonder Week (Let Students Ask the Questions)
The Wonder Week Project is an inquiry-based, week-long project, where students ask questions about anything they find interesting. These are those nagging questions they have that they've never had a chance to answer in school. So, students begin with a place of inquiry, with a particular question they are dying to figure out. 
From there, they move into research. They might go online and look for answers on websites (and, yes, I think Wikipedia is great for this) or look at YouTube videos. They might contact experts in the field and send out emails or even do video conferencing. Eventually, they share their answers through a blog, video, or podcast.
Think of Wonder Week as a shorter and tighter version of Genius Hour.
#6: Geek Out Blogs (Let Students Build an Audience)
The idea is simple. Students write topical or thematic blogs in the topics that they geek out about. We go over examples of blogs (which exposes students to high-interest non-fiction reading) and they look at trends. They see foodie blogs, skateboarding blogs, sports blogs, fashion blogs, gaming blogs, car blogs, history blogs, science blogs, etc.
 Next, they create a specific themed blog. They define the driving interest as well as the audience. From there, they begin writing blog posts in various formats:
They choose the format, including video, audio, and text.

They choose the topics of the posts.

They engage in research and share their findings with the classmates.

They create posts that range from listicles

 

to Q&A to interviews to human interest stories to persuasive pieces to instructions on how to do something.
With Geek Out Blogs, students get to own the entire writing process, from finding a topic and an audience all the way into research, writing, editing, and publishing. They get to choose the format and the genre of each post. And ultimately, they get to be the experts.
A Community of Makers
When you start the year with student-centered projects, you set the tone for students to become self-starters and self-managers, which is something they will need for the rest of their lives. They learn how to think like entrepreneurs:
But it's more than that. When you start with student ownership, you are sending the powerful message to students that it's okay to be known and that their passions, interests, and expertise are valued in your classroom. So, as they feel known and trusted on an individual level, they are able to share their ideas with classmates. From here, you grow into a tight classroom community where your students are able to recognize and appreciate the diverse range of interests and talents. And when that happens, you begin to grow into a community of makers.
Empower Toolkit
Get this free Empower blueprint and toolkit along with members-only access to my latest blog posts and resource