Five Really Good Reasons Not to Do Collaborative Projects With Your Students
"Group project." Say those two words and you'll instantly notice the face of sheer dread as a handful of students calculate just how much extra work they'll need to do in order to make up for the slackers in their assigned group. Look around the room and you'll see the scattered sense of relief from the slackers who know they just got a free pass. But you'll also notice that shy student who is already nervous about spending hours in a group with no time to process things individually. You'll see that student who everyone thinks is a slacker but is really just incredibly scared. He struggles with school and already wants to give up because he knows his work will only disappoint his team.
There are so many ways that group work can go wrong. It's no wonder, then, so many teachers are reticent about assigning group projects. With that in mind, here are some solid reasons to scrap collaborative projects altogether.
There simply isn't enough time. Another way to say this is, "It's not covered in the curriculum map." Your weeks are already jam-packed as it is. Adding a creative, collaborative project can feel overwhelming. There's a reason so many teachers wait until the end of the year to do a collaborative project. It's easier to pull off after testing is over, when the curriculum map gives you a little more slack and you aren't feeling the pressure to make sure kids pass the test.
Some students won't participate. Too often, group work doesn't work. Remember that group project you did in the ninth grade? One member wandered the classroom talking to friends and two other members did the least possible work required. Meanwhile, you were stuck doing the job of four people only to watch every kid get the same great. Now, as an educator, you have no desire to impose this same experience onto your students.
Students don't know how to work collaboratively. Most groups struggle with metacognition and project planning. In some cases, they struggle to communicate without fighting. It can be easier to avoid larger collaborative projects and stick to smaller bursts of cooperative learning activities.
The class gets noisy, crazy, and chaotic. It's easy to dismiss this by saying, "Embrace the constructive chaos." However, teaching is hard, even when things are running smoothly. And, while it's true that learning should feel messy, it shouldn't feel chaotic or unsafe.
Introverts can get lost in the shuffle and eventually shut down. In Quiet, Susan Cain argues about the dangers of constantly focusing on small groups to the detriment of introverts who have not had the opportunity to process information individually or to work in silence and solitude. You've probably seen this in certain group projects, where students talk over one another while a quieter, deep thinking student, eventually gives up.
So, there you have it. Five solid reasons to scrap collaborative projects altogether. And yet, we also know that most of our students will someday work in a profession where they will need to collaborate with colleagues on long-term, creative projects. I previously wrote about what happens to students when they engage in creative collaboration. Here's a sketch note I created on the topic.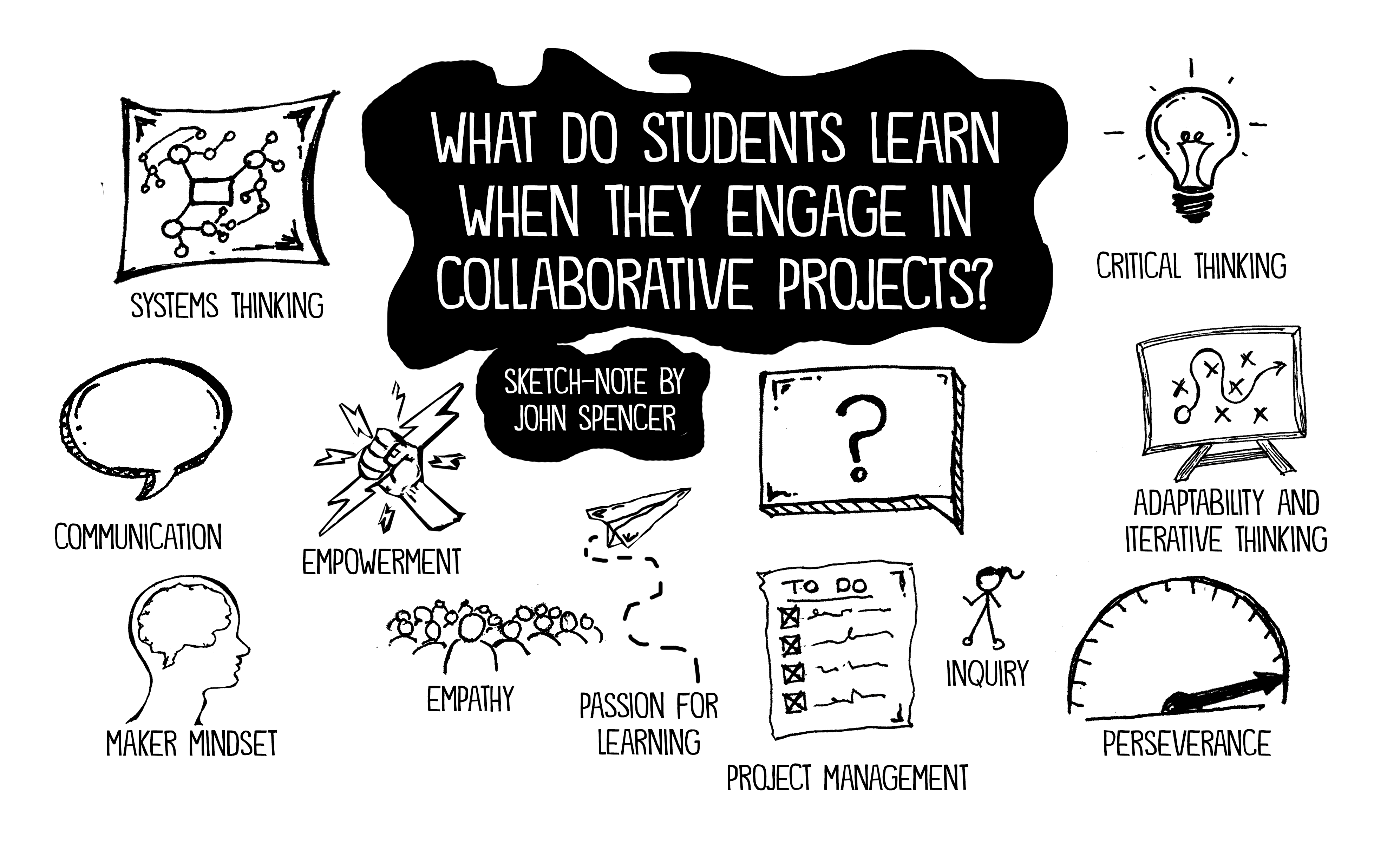 What if we changed our approach to creative projects so that students worked interdependently with built-in accountability? What if each group collectively owned the creative process in a way that promoted inquiry, research, ideation, project management, and iterative thinking? And what if we could pull this off without having to cram it into a packed curriculum map? This is why I love design thinking. It works as a roadmap for collaborative projects so that students can get the most out of the creative process.
A Roadmap for Collaborative Projects
Design thinking is a flexible framework used in the arts, in engineering, for product development, and in social and civil spaces. Although it has become more popular in recent years, design thinking is actually a process that has been evolving for over half a century. It first emerged within the design science community, where MIT professor Buckminster Fuller brought together multidisciplinary teams in visual design, industrial design, ecology, architecture, and ergonomics to develop creative solutions to complex problems (Vogel, 2009). Meanwhile, in Scandinavia, the cooperative design movement rejected this expert-driven model and focused on a less hierarchical and more democratic design methodology, with empathy-driven design. (Cross, 2007). By the 1980's, these ideas converged into our current concept of design thinking as both human-centered and process-driven, with empathy as a prominent feature in both the d.School and IDEO Frameworks (Brown, 2008).
Note that design thinking is a roadmap rather than an instruction manual. Instruction manuals tell you, step-by-step, precisely what you need to do. Roadmaps, by contrast, inspire possibilities and help us figure out where we are going (process-driven) while ultimately allowing teams to make decisions and forge their own way (human-centered).
Although there are many design thinking frameworks, A.J. Juliani and I developed the LAUNCH Cycle as a student-friendly process. We took our favorite ideas from several other frameworks and then added our own unique twist – namely, the inquiry phase (ask tons of questions), the research phase (understand the process or problem) and the final launch phase. But we also know this: you're the teacher. You know your class better than we do. So, if you try out the LAUNCH Cycle, you might want to add your own unique twist.
The following video explains the LAUNCH Process:
So, here's where each phase of the LAUNCH Cycle can help facilitate creative collaboration:
Look, Listen, and Learn
This beginning phase taps into each students' awareness and prior knowledge. It's a chance to get individual buy-in before asking the groups to collaborate together. But it can also be a chance for groups to clarify their main purpose for meeting together (the problem they will tackle, the group they will show empathy toward, or the product they will create). In this phase, you are creating group cohesion and buy-in.
Ask Tons of Questions
After starting with awareness, students then ask tons of questions. This is a chance for every student, regardless of skill level or prior knowledge, to engage in the inquiry process. We have rule here. There are no dumb questions. The goal is simply to tap into each student's natural curiosity and see where it goes. Groups then work interdependently to combine their questions. Every student has a voice from this very early stage, which increases ownership, motivation, and engagement. This inquiry phase is important because their curiosity will fuel the harder work in the next phase.
Understand the Process or Problem
In this phase, students engage in research. It can help to break a team of 4-6 into smaller groups of partners who can then lean on one another. In some cases, you might meet with a small group who struggles with reading and research – and that's okay. Even if some students work slower or have a hard time with informational reading, they can still contribute something to their group's research.
Note, too, that the research doesn't have to be reading. Students can conduct needs assessments, gather data, observe natural phenomena, watch videos, listen to podcasts, or interview an expert. In the end, group members meet together to debrief what information they have found and discuss how this will impact what they design. Note how every student has a valuable role in this phase because anything they add is simply more prior knowledge that they'll use to generate ideas in the next phase.
Navigate Ideas
After gaining new background knowledge, teams can then brainstorm their initial concept for a prototype. The following is a brainstorming process that helps ensure that every student has a voice.
add button
Once they have a solid concept for their prototype, students then engage in metacognition and project management as they plan out their tasks and set their deadlines. As a teacher, you can assign roles or help them break down tasks (especially at a younger grade). Or you can encourage them to negotiate tasks as a group and resolve the conflict that will arise in the process. You ultimately know what's best for your students.
Create a Prototype
In this phase, students create the product. It could be a physical prototype, a digital product, a work of art, an event (like a play), or a service (such as going to the food bank). Students might work individually, in pairs, or collectively as a group. Ideally, they will find ways to discover ways to incorporate one another's strengths while ensuring everyone participates. This doesn't always work perfectly but that's okay. It's a learning process. Even as adults we sometimes struggle with finding our roles within a group. In my experience, this is the phase where nearly every student is participating and the groups have truly become cohesive teams.
Highlight and Fix
In this phase, students engage in peer feedback and self-assessment. In the past, I have used the 20-minute peer feedback system. But it's also a chance for you, as a teacher, to conference one-on-one with students to help them monitor their progress, set new goals, and try out new approaches.
Launch It to the World
In this final phase, students launch their product to an authentic audience. Here, the group works collaboratively to determine the methods for reaching their audience. It's important that students get the opportunity to define the audience.
Why Design Thinking Works
So, let's go back to the five reasons to avoid collaborative projects. Note that design thinking solves some of these problems:
Design thinking aligns to the standards. True, it takes time. However, it's not something new that you're adding to your plate. Instead, it's a new way to arrange your plate — a way that allows students to be the chefs rather than waiting for you to add things to the plate.
Design thinking increases student participation by focusing on student ownership. Each student has something to contribute from the first phase on. So, even if students struggle academically, they have something of value to add to the project. This doesn't mean that every student will be able to contribute the same amount of work at the same level. But it does mean that every student has something to contribute to a creative project.
Design thinking helps students learn to work collaboratively by providing interdependent tasks. For example, they each contribute questions to the Ask Tons of Questions. In the Navigate Ideas phase, they brainstorm independently but then work collaboratively to narrow down the ideas and refine the concept. The peer feedback structures require interdependent work so that every student has a voice in the process.
Design thinking provides structure so that group projects don't devolve into chaos. Note that certain parts are a little bit looser (researching and prototyping) while other parts are highly structured (ideation and peer feedback). The goal of the structure isn't to keep things neat and tidy. Instead, it's meant to facilitate the creative process. As a teacher, you can always scale back the structure and allow students to modify the process.
Design thinking honors the role of introverts. If you look at the Tiny House Project, you'll notice that students can work individually during the Understand the Process or Problem phase as well as the Create a Prototype phase. But even in the other phases, students are often asked to process things individually first before meeting with their groups.
To be clear, this doesn't always work perfectly. You will still have students who are reluctant to work because they are scared or because they feel lethargic or because they lack the executive function skills needed to figure out what they need to do. You will still have moments when group members argue with each other or times when you have to nag a group to get going or make up their minds about a decision. This isn't a magic formula. It's a roadmap on the epic adventure of creativity. There will be challenges along the way but it's worth it, because, like all epic adventures, the protagonists are different in the end. In the end, they've become makers.
Sources
Brown, T. (2008). Design thinking. Harvard Business Review, 86(6). https://doi.org/10.1145/2535915
Cross, N. (2007). From a Design Science to a Design Discipline: Understanding Designerly Ways of Knowing and Thinking. Board of International Research in Design, 2, 41–54. https://doi.org/10.1007/978-3-7643-8472-2_3
Vogel, C. M. (2009). Notes on the Evolution of Design Thinking: A Work in Progress. Design Management Review, 20(2), 16–27. https://doi.org/10.1111/j.1948-7169.2009.00004.x
Get the FREE Design Thinking Toolkit
Get this free toolkit along with members-only access to my latest blog posts and resource